Why Work with Platinum Property Management
Woodstock Property Management
What We do as Your Management Company
What makes Platinum Property Management different is that we understand we are only as good as our client's and staff.  We are a locally owned and operated family run company that puts the personal relationships with our clients and customers above growth and profits.  Our team approach to everything we do was designed to make sure each individual we work with always has the opportunity to be a part of the decision process within our company. 
+10 years serving Metro-Atlanta's property management market
Member of the National Association of Residential Property Managers
Fully Bonded and Insured to protect you and your investment
Our only business is property management
No maintenance surcharges, saving our portfolio of clients thousands of dollars
Ongoing investments in technology and infrastructure to insure effective management, communication and service for our landlords and tenants
Our team approach concept to managing properties affords us approximately 1 staff member for every 50 properties to make sure landlords and tenants experience exceptional communication and service
A focus on finding high quality tenants through our thorough screening process 
No hidden fees to offset low cost promises to get your business
Client retention and long-term relationships drive our business model
What Our Clients Are Saying About Platinum Property Management
Reputation Reviews
Contact us (678-710-8056) to discuss a completed list of all services included with management.
Inquire About Our Services
Woodstock Area Information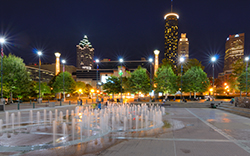 Although the first settlers called their new home Woodstock, the community did not become an official city until 1897. Postal service records show that a postmaster was in Woodstock beginning in 1833. Historic documents show the establishment of churches in the area in the 1830s as migrations of pioneers came to the community to farm the land, producing for most of their needs. Early settlements sprang up around waterways, and as the railroad and train depot became a reality in 1879, the town centered around these landmarks.
The Woodstock Depot was built in 1912 by the Louisville & Nashville Railroad as the town grew. The line transported cotton, rope, and other agricultural products, as well as passengers. Passenger service ended in 1949.
Historic homes built a century ago line Main Street. Some are home to descendants of the original owners, while others have been renovated for thriving businesses. Source From Wikipedia