At Platinum Rental Properties, we got into the business of Alpharetta property management about 10 years ago. It started as a side business to our real estate work, and it's grown into what we do full time. Today, we're talking about customer service, specific to our industry and our company. We want to tell you why and how we got into the business of providing the best customer satisfaction.
Customer Service Skills Were Needed in Property Management
We noticed that there was a need for service-driven property management. In the industry as a whole, communication wasn't great, there were no systems in place, and people just weren't as professional. Since this was a newer industry for us, we looked at a lot of mature companies around us, and learned from them. We made improvements based on what we saw, and brought our own methods and thoughts into the service model.
Focus on Service and Customer Satisfaction
Customer service is the one thing we focus on the most. It drives every decision we make as a business: how will it impact our customer?
We communicate in a way that customers know they are important to us, and we respect them. They are a huge part of our business, so it's important to focus on how they feel. Without long term systems in place, people won't feel important, and service will suffer. That's when customers start to consider other companies or cancel management contracts.
Making Adjustments to Service and Systems
When the market changed, people began turning to property managers to rent out their homes when they couldn't sell those properties. So, a lot of companies started accidentally. We intended to return to the real estate side of things, but we're still managing properties. We love what we do. As we were growing, we made some mistakes. This gave us an opportunity to adjust things. We would make adjustments after successes, too. There's a constant re-investment in the business.
Employees Create Customer Satisfaction
Today, our customer service is much better than it was 10 years ago because we have things in place now that we didn't have then. For example, our people are outstanding. We provide training and benefits for our employees, and it impacts our customers. Customers are interacting every day with the people we hire. So, we hire the best people.
Each employee manages about 50 properties. From a customer standpoint, this is a huge advantage because we will know the specifics about your property. If a person is managing 250 properties, he or she won't know you when you call. We don't have a lot of employee turnover, and we also don't have a lot of client turnover. Some of our customers have been with us for 10 years.
Atlanta Property Management: Back Office Systems
Third party software helps us on-board a tenant and an owner electronically. Owners and tenants look at their statements at any time, while in the past, they had to call us for information, or wait for our email. The systems we have in place now speak to our growth and evolution. As you grow, you can implement more things and improve the business.
Property managers who are just starting out might not have the resources for a full accounting staff or management system. Maybe they're using excel spreadsheets. As a company grows, their systems get more consistent and clear. Processes become fast and effective.
Alpharetta Property Management: Relationships
Our relationships with vendors and bankers and lawyers have also developed. These are people we didn't work with on day one. In the 10 years that we've been working with them, we know who they are and how they work. They buy into us, and we buy into them. We know when we send someone out to do maintenance, the work will get done correctly, and the vendor will be respectful of our customer and our owner. These relationships allow us to deliver the experience we want for homeowners and tenants.
Great customer service is the belief that you treat your customer with respect and have open communication. There should be no difference between what is expected and what is delivered. We set the right expectations, and then we over-deliver.
Customer Service and the 12-Month Relationship
The relationship property managers have with their customers is different than it is in other industries. Our typical lease is 12 months. You have to manage that customer relationship for 12 months. It's not touching the customer once and moving on. So, we ask for feedback from tenants and owners during those 12 months. Feedback is important, even if it's negative. We love to hear good things, but we use the bad things to get better.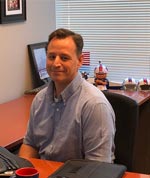 Building customer service is a long process, and it will evolve. If you invest in it, your customers will be pleased.
If you have questions about customer service or things we've done to improve our Atlanta property management services, please contact us at Platinum Rental Properties.