Why Work with Platinum Property Management
Atlanta Property Management
What we do as your Atlanta Property Manager
Looking for an expert Atlanta Property Management Company? Platinum Property Management has unparalleled wealth of experience in Atlanta Real Estate Rental Management. Our only business is property management. We do not own a maintenance company. We do not buy or sell real estate. Our only focus is property management. Our in depth understanding of how to manage properties, combined with large investments in technology and infrastructure allows us to effectively manage at the highest standards during the rental cycle. While most of Atlanta Property Managers average 100-200 homes per manager, we are over staffed. We have roughly 40-50 homes per manager. We work beside you to gain the highest return possible on your investment property. Platinum Property Management works diligently toward finding a quality tenant. We don't offer a "guaranteed tenant placement in 10 days" . We focus on quality and that process may take an additional time to investigate a potential tenant's background,but we know that is is worth the wait. Focusing on quality tenants who pay on time, ensuring a reliable stream of income. Evictions and short tenancy cycles are the downfall to any rental property's long-term financial success.
What Our Clients Are Saying About Platinum Property Management
Reputation Reviews
Contact us (678-710-8056) to discuss a completed list of all services included with management.
Inquire About Our Services
Atlanta Area Info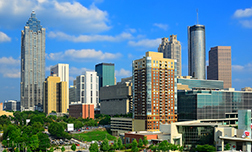 Forbes Lists Atlanta as one of the best places for business and careers and job growth.
Atlanta is a rapidly growing city, and its metropolitan area exceeded 5.7 million for the first time in 2014. Population higher than the previous year and this growth is expected to continue as its population is predicted to grow by 43% by the year 2025.
The city of Atlanta is attractive as an investment opportunity because of economic growth and affordability. Atlanta's cost of living 0.9% is below national average. Locating an investment market that combines diverse demographics, population growth, lower cost of living and a strong job market is one of the reasons Atlanta investment opportunities are unparalleled. The steady influx of new residents has created a very large population of renters. The supply and demand is the driver for the continued increase in monthly rental rates. The long term appreciation from an investment located in a dominant market, with population and economic growth while keeping cost of living below national average, is what creates the excellent ROI opportunities.
If you would like to learn how Platinum Property Management Services can assist with your investment opportunities, contact us today for a one-on-one consultation.
Areas We Service
Chamblee
Conyers
Dahlonega
Dallas
Decatur
East Atlanta
Emory
Johns Creek
Loganville
Midtown
Monroe
Norcross
Sandy Springs
Sugar Hill
Tucker
Virginia Highlands