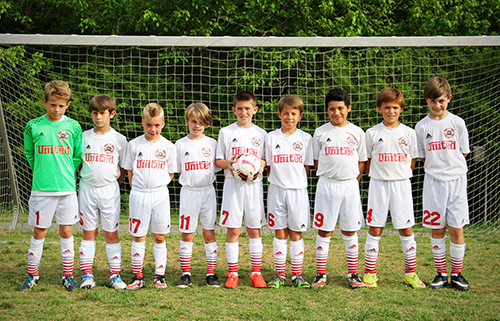 UFA Dawson 06B Gold is headed to Disney Memorial Day Shootout to represent United Futbol Academy!

Coached by Richard Ortega and Elizabeth Waite, UFA Dawson Gold currently holds a 12-1-1 record so far in all 2016 spring competitions, including championship games in their last 2 consecutive top division tournaments. A fun, passionate, and team-oriented style of play makes UFA Dawson Gold an exciting candidate to play at Disney's highly competitive tournament.
"Every player and family is extremely committed to the success of the team. We hope that this experience will not only expose our players to a fantastic level of competition, but also give them a memorable experience that will make them love the game even more. This one is for the players, they have earned this opportunity"
, said Coach Richard Ortega.
To enhance the experience even more, top class sponsors have come together to support the team with donations and athletic gear. Sponsors include Qualite Sports Lighting - a national leader in the sports lighting industry, Wolf Mountain Vineyard - an award-winning destination in Dahlonega, GA,
Platinum Property Management - the trusted choice in Real Estate services in Atlanta
, and Nabisco - the loving American manufacturer of cookies and snacks.
Disney's largest 3-day soccer tournament will be held at the ESPN Wide World of Sports on May 27-31 and is expected to host over 70 U10 teams from Florida, Georgia, North Carolina, Texas, Mexico, Jamaica and the Bahamas. UFA Dawson Gold will be 1 of only 2 teams competing from the state of Georgia.
Disney Memorial Day Soccer Shootout attracted more than 650 teams in 2015 that resulted in more than 1,100 soccer matches in just three days.
We wish the best of luck to UFA Dawson 06B Gold as they prepare for an amazing experience in Disney!