What Is Considered Normal Wear and Tear
Unfortunately, disputes often arise when a tenant defines a deduction as wear and tear while a landlord considered it damage. Many of these types of disputes are minimized and often avoided if there is a pictorial timeline during the tenancy. Platinum Property Management manages and archives inspection pictures and reports, providing the landlord and the tenant with a pictorial timeline.
Georgia tenant-landlord law is not always definitive in outlining what is considered "normal wear and tear" and "tenant damages". The law allows landlords to deduct portions of the security deposit to cover the cost of damages caused by a tenant. However, landlords cannot deduct to repair normal wear and tear, or the normal depreciation of a property. Platinum Property Management manages homes throughout the Atlanta area and multiple counties. Each county governs their own Magistrate's Court. Each Magistrate Court is governed by multiple judges and there is no way to know which judge will be in session and what their opinion will be on normal wear and tear. As an Atlanta Property Management Company, we rely on our experience with the courts and the rulings of those judges to determine "normal wear and tear".
Atlanta landlords should expect to budget $1,000.00-$2,000.00 per year for preventative maintenance on their rental home. Most homeowners take care of the maintenance on their personal home; it's a matter of pride for most of us. We know it doesn't take long for small problems to become big, expensive problems. Include these routine home maintenance items for your rental home as well.
As the owner of rental properties, whether it be one or multiple units, periodic inspections are a vital part of the process. Ongoing walkthrough inspections will help prevent "surprises" at move out. Platinum Property Management, completes four inspections during a one-year term. Detailed report with photos at move in, two walkthrough inspections (approx 4th and in 8th month) and a final inspection on anniversary month or move out inspection. If there are any issues that need to be addressed, we will determine if it is tenant damage i.e. lease violation or if preventative maintenance may be suggested.
The inspection reports will note pet odor, cleanliness, smoking odors, pets in the home, etc.. We believe that property inspections are vital to protecting your investment and maximizing your profit. The problem is, if you self-manage your rental property, how do you find time to conduct one, how should you handle one if your property is occupied, and what do you do if your tenant refuses to let you come in? Self-managing landlords may consider a third party resource to conduct the inspections.
The inspection report below references worn carpet, stained carpet and that it may need to be replaced. In this situation, we would then compare the move in photos of carpet, consider the age of the carpet (depreciation). NARPM references a typical a carpet "lifespan" is six years. Let's assume this is a 4-year-old carpet that was in good condition at move in. Upon move out (12 mo lease) the carpet is ruined. We can not charge a tenant the cost to replace with new carpet, we would only be able to defend a charge of 1/6 of the cost of the new carpet (the carpet is 5 years old when the tenant vacates so there should have been 1 year of life left in the carpet). Depreciation would also apply to appliances.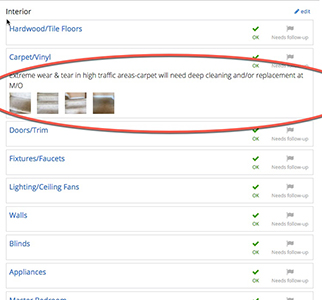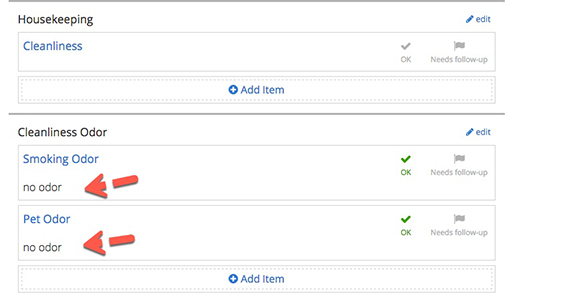 You can access more information on landlord resources and services here or call 678-710-8056.