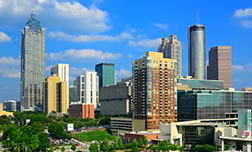 Forbes Lists Atlanta as one of the best places for business and careers and job growth. Atlanta is a rapidly growing city, and its metropolitan area exceeded 5.7 million for the first time in 2014. Population higher than the previous year and this growth is expected to continue as its population is predicted to grow by 43% by the year 2025. That is only a decade away!
The city of Atlanta is attractive as an investment opportunity because of economic growth and affordability. Atlanta's cost of living 0.9% is below national average. Locating an investment market that combines diverse demographics, population growth, lower cost of living and a strong job market is one of the reasons Atlanta investment opportunities are unparalleled. The steady influx of new residents has created a very large population of renters. The supply and demand is the driver for the continued increase in monthly rental rates. The long term appreciation from an investment located in a dominant market, with population and economic growth while keeping cost of living below national average, is what creates the excellent ROI opportunities.
Our Atlanta Property Management team can add significant value to your investment.